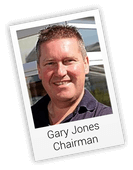 Gary Jones who founded Glevum back in 1984 has stepped up to become Chairman of Glevum. He has handed over day to day control of Glevum Windows to his sister Sue Jones who has become Managing Director whilst Mike Donaldson has been made Managing Director of Glevum Design & Build, the part of the business that supplies and installs windows, doors and conservatories for new build developers.
Gary commented on the new appointments: "I am delighted be able to announce these new appointments and have every confidence in Sue and Mike leading the businesses in the next stage of their development. The fact that we have been able to make such high calibre appointments internally is also fantastic for the stability of the business. I am very much looking forward to my new role as Chairman and overseeing Glevum going from strength to strength".
Sue Jones has worked for Glevum since 1989 and has in recent years been responsible for leading both the operational and sales side of Glevum Windows.
Sue commented on her new role: "I have loved my time working for Glevum and I have a fantastic team supporting me. We have been working towards this for some years now so I am confident that the transition will be smooth. I would like to thank Gary for this opportunity and our customers and staff for their support over the last year, which of course has had its challenges. I believe we have come out of it stronger though and am very much looking forward to the future".
Mike Donaldson joined Glevum in 2015, having worked in the New Build Glazing Industry since 1997 with Roman Glass and South West Glass. Mike has held a number of roles in the business including Business Development Manager, Regional Manager and most recently Operations Director. Mike has been a key figure in driving the growth of Glevum Design & Build.
Mike commented on his appointment: "I would like to thank Gary for this exciting opportunity. We have very firmly established Glevum Design & Build as a major player in supplying the new build market. The quality of our products, our staff and our systems have earned us an excellent reputation in the sector. I am very much looking forward to developing the business further over the coming years".
All three appointments take effect immediately.