A big hearted response by Glevum and Gloucester Rugby Club, following an article in the Gloucester Citizen about the theft of a signed rugby shirt raffle prize, is set to raise even more funds for Sue Ryder Leckhampton Court Hospice.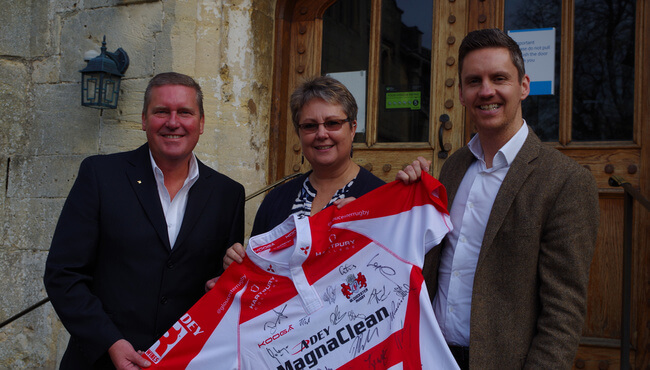 The local hospice was facing having to hand back the money it had raised from a charity raffle organised by Barclays Bank staff following the theft of a Gloucester Rugby shirt signed by the first team squad from a mannequin on display in the window of its shop in Oxebode Street in Gloucester.
But, following stories printed in The Citizen and appeals made on social media, both Glevum and Gloucester Rugby Club got in touch with the hospice to say they would replace the stolen shirt.
One shirt will replace the stolen charity raffle prize, while the other is destined to be auctioned off at the Hospice's Winter Ball, taking place at Pittville Pump Rooms on Friday 11th December, raising even more money for the hospice which provides specialist end of life and palliative care for local people.
But the kind hearted gesture hasn't ended there, as when the CEO of Gloucester Rugby, Stephen Vaughan, heard about the Charity's Winter Ball, he also donated two tickets to a game of the winner's choice this season to join him in the 1873 Club for a meal and to watch the game from the best seats in the house.
Elise Hoadley, Director of Sue Ryder Leckhampton Court Hospice said,
"We have been completely overwhelmed by the amazing response received from the people of Gloucester following the theft.
"We've had so many messages of support from people on social media and thanks to the amazing people at Gloucester Rugby and Glevum we have not one but two shirts and an incredible auction prize for our Winter Ball.
"We could have lost the money for a day's care by two nurses following the theft, but now we're in a position where we could raise an awful lot more which means we can be there for local people at a time they need help most.
"It is true what they say. Every cloud does have a silver lining – or in our case, a Cherry and White one."
Gary Jones, Managing Director of Glevum Windows, said,
"We were horrified when we heard of the theft of the shirt and couldn't believe that anyone would stoop as low as to steal from a charity in this way.
"Knowing that we had a signed Gloucester shirt we contacted Sue Ryder as soon as possible to make our offer. Combined with Gloucester Rugby's generosity it is just fantastic that such a good cause is now actually better off than it would have been before the theft."
Stephen Vaughan, CEO of Gloucester Rugby Club added,
"We couldn't believe it when we read that someone would steal from a charity, particularly as they were using the shirt to raise funds for such a good cause.
"In the circumstances, we felt that the least we could do was offer to replace the stolen shirt and also provide some match tickets."
The Sue Ryder inaugural Winter Ball, sponsored by Pulhams Coaches, takes place on Friday 11th December, with tickets costing £90 to include sparkling drinks reception, three course meal with drinks, entertainment and exclusive charity auction. Table packages are available.
For further information visit www.sueryder.org/leckhampton or call 01242 246285.