Posted on April 1, 2016
Maybe as summer is around the corner you are looking to bring the sunshine into your home. Perhaps there is a new arrival in the family and you are keen to find some extra space. Or maybe you are looking for a cost-effective way to add some value to your property. All of these are common and valid reasons for considering buying a conservatory for your home.
Done well, a conservatory can transform a property both inside and out. Getting it right requires some intelligent planning, though. The first step is to decide exactly what it is that you want from your new glassy extension. So let us take a look at a handful of essential things to consider in the run up to buying a conservatory.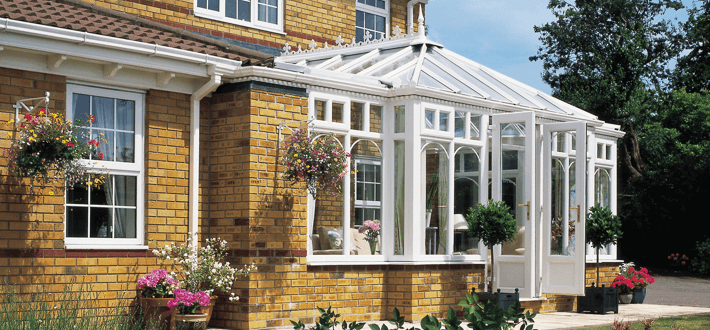 Classic or contemporary – suiting your exterior style
There really is no such thing as a good or a bad choice when it comes to style. The key thing here though, is to match the style to your home. Fortunately, any reputable provider of conservatories will be able to offer you something with all the mod-cons, whilst suiting the period or vernacular style of your property.
Gary Jones at Glevum highlights the possibility of using modern materials in classic designs:
"Today's uPVC is so versatile, homeowners don't have to make the tough choice between aesthetics and efficiency anymore. Modern materials mean those in period homes can have the best of both worlds."
Aim high – embrace the same standards you would for any other room in the home
Thanks to high standards in today's industry, conservatories can act as so much more than somewhere to enjoy the summer sun. Comfortable spaces all year round, thanks to a range of heating and cooling options and different glass and roof options, a new conservatory requires just the same level of thought and planning as any other room in your home.
Integrate the design into your home
As the conservatory is going to be an integral part of your home, it makes sense to consider the adjacent rooms when planning. You may be thinking about creating a second living space in your conservatory. The truth is, with modern standards, there is no reason why your conservatory cannot operate as your main living room! In cases like these, you could well find yourself having to re-think several spaces in your home, not just your gleaming new conservatory. Think carefully about matching colours and design schemes between your conservatory and the adjacent rooms.
Spare a thought for your garden
It can be easy to get caught up in planning the interior of your home, and to be overwhelmed by the ability of a conservatory to transform your inner space. However, it's important to remember that a conservatory can have an equally significant impact on the outside of your property. Think carefully about how each design will work with your garden, and consider making changes to your landscaping accordingly. Not only do most people end up describing their conservatory as their favourite room, but they also often describe it as the perfect link between the house and the garden.
Use a reputable company
As with replacing windows and doors for your home, doing a good job the first time round is essential. Look to save a quick buck by opting for the first or lowest quote and you could well find yourself in a hole a few years down the line. Nowhere is this more apparent than with a conservatory – keep a keen eye on depth of foundations, wall structure, energy rating of glass and the extent of any guarantees.
Opting for a reputable company not only guarantees a longer life for your conservatory, but it promises a higher standard of service in the future, should any maintenance work be required. Firms that do not specialise in conservatories can struggle to provide this all important after care.
Keep these points in mind and your new conservatory will soon be adding character and value to your home in equal measure.