Posted on March, 2019
Now that spring is here, home renovations and extensions are commonly amongst homeowners' top priorities. This time of year is where many homeowners are in a rush to expand their living space.
So why should you consider a Glevum conservatory or orangery? We have highlighted 5 important reasons in hope to help you consider and understand the benefits of the purchase.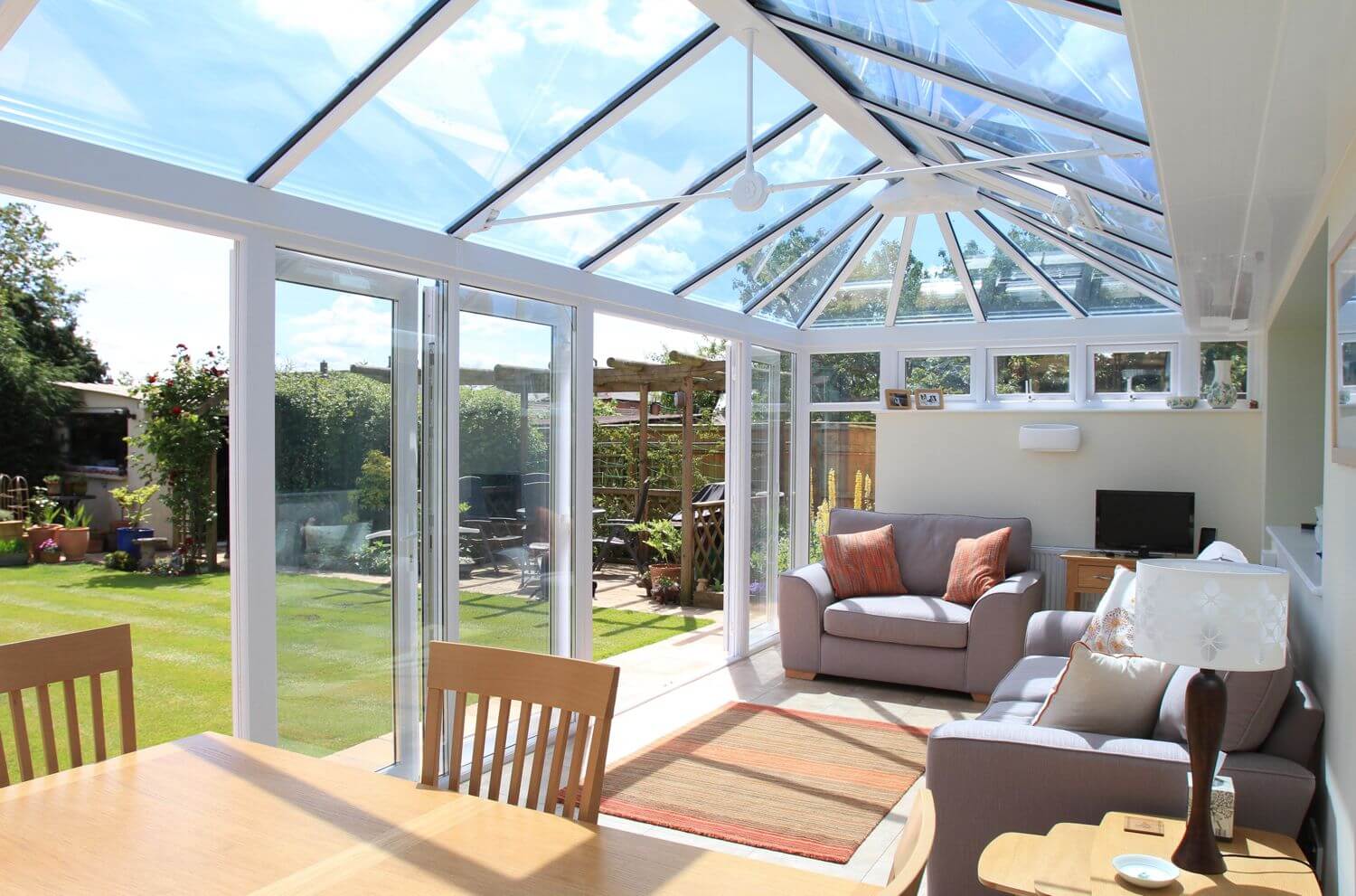 They can have various uses
Conservatories and orangeries don't have to be conservative! Any home extension can be built and personalised to suit the needs of the homeowner. Once you have made the decision to invest in a conservatory or orangery and you know how it needs to function, it can be accessorised and furnished accordingly.
The new space can be used as a lounge, dining room, office, playroom, a home gym or even an extra bedroom – once the structure is built, the area can be used for anything, and that doesn't have to be the same as everyone else.
The good thing about an orangery or conservatory? They can be used for anything and even have their seasonal uses. During the winter? How about converting the space into a gym, where you can enjoy exercising in daylight without the freezing temperatures, making it easier to avoid giving up a fitness regime through the colder months. During the summer? Use your conservatory or orangery as a tranquil space for pleasure and pure relaxation. Whether it's enjoying your morning cup of coffee in the early morning sun or getting into a good book under a clear starry might, you're certain to feel at peace with the world around you.
Our Glevum designs bring together the lightness of our energy efficient glass with a physical structure – they can be built to blend in seamlessly to the existing property to become more of a feature and give you various choices as to how to utilise the space.
They can help to conserve energy
A Glevum conservatory or orangery can be incredibly energy efficient – they can improve the level of comfort in your home, helping you save on your monthly energy bill and offering environmental benefits all year round. They can act as a 'buffer' against the outside weather – the temperature will stay a few degrees warmer than it is outside, and in typical British weather, what could be better?! For much of the year a conservatory is a very nice place to be. However, you may want to consider blinds or shutters to prevent overheating in high summer and keep heat in during the coldness in the winter. Specialist blinds will further enhance your living space, they help to control the temperature, keep heat in or out dependent on the season, protect furnishing from excessive sunlight and most importantly, give you privacy.
With over 25 years' experience and an unrivalled reputation for quality and choice, Appeal Home Shading is the blinds supplier that we at Glevum would recommend. Appeal are specialists in conservatory blinds and blinds for windows & doors (including bi-fold doors), and never compromise on quality. Not only will they accessorise your conservatory or orangery, but they will also provide you with the practical features discussed above.
Improve home value
You may eventually reach a point where you consider selling your home. Investing in a high quality Glevum conservatory or orangery will increase the value of your property whilst also setting you apart from other homes if you do come to sell. An orangery and conservatory installation can increase your homes value by up to 5%! It is one of the top home improvements made by UK homeowners, offering the potential to create a contemporary, light-filled and versatile space that can be used in an infinite number of ways.
The aesthetic appeal of a conservatory or orangery is key to adding the significant value to your property. Potential buyers will be impressed by a style that complements the architectural style of your house and the best way to achieve this is to opt for a style of conservatory or orangery that suits you. Whether you prefer our Facet Victorian conservatory, the classic simplicity of Georgian and Edwardian designs or a contemporary orangery, a custom bespoke Glevum design will be created to match perfectly with your homes style and setting and will transform the appearance of your house.
They let in natural light
Orangeries and conservatories can be designed to have slender frames, meaning you can incorporate a vast amount of glass into the design. All this glass allows for the natural sunlight to soak through to fill the space and make the home extension have an inviting and nice ambience. The two structures are known to conserve the heat and light they obtain, making the environment natural, warm and tranquil – particularly during early spring and summer evenings.
A Glevum designed conservatory or orangery is a highly versatile space you can add to your home in a range of configurations. There are many choices of design and the ability to customise the shape, style and materials used means you can specify a conservatory or orangery that fits your purposes and your budget. Despite the two having their functional differences, the two multi-purpose spaces feature a high proportion of energy efficient glazing, allowing you to enjoy the natural light from the warmth of the indoors.
As they feature glazing prominently, these home extensions make the most of natural light. They can make excellent spaces for relaxing, studying, dining, recreation and horticulture – to name just a few uses.
SO, why should you buy a conservatory or orangery? We've mentioned above 4 major benefits of adding the home extension to your homes, and our Glevum range can offer you everything and more to make it the perfect addition! Perhaps it is no surprise that the most common phrase we hear when we finish a Conservatory or Orangery is that it is their new favourite room in the house.