Posted on September 1, 2016
For most of us, the value of our home represents our most important financial asset. Whether you're looking to pop your property on the market or are making investments for the future, carrying out work on your home is usually a shrewd economic move.
Beyond a lick of paint and a new kitchen, home-owners need to employ a touch of imagination in order to get the most from their property. One smart way to get the thinky-ball rolling is to consider what you can do with glass around the home. Let's explore a number of ways in which glass can add value to your property.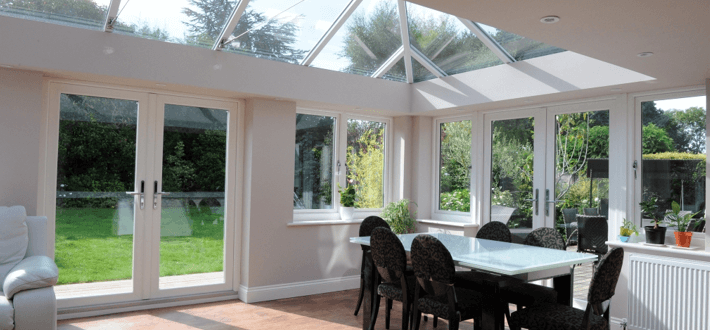 Build a conservatory
Conservatories offer a superb opportunity to extend your home, but they are also charming spaces in their own right. In the summer months, conservatories provide a pleasant dining or seating area throughout the day. When the winter comes around, they help to maximise the natural light that finds its way into the rest of your home.
Done properly, a conservatory can serve as a half-way house between indoors and out. In addition to adding a comfortable room to your property, building a conservatory will help bring your garden alive and will maximise the enjoyment you get from your outside space, allowing you to enjoy it all year round.
Improve kerb appeal
Windows can have a significant impact on the aesthetics of a home. When it comes to improving kerb appeal for potential buyers, there are few easier ways to transform a property than to fit high quality windows. Old or cheap windows immediately make a house appear drab. A new set of windows can uplift a property and give a feeling of quality.
Just as important as the quality of your new windows is the style. To maximise the value you add to your property, it's essential that you match the style to the existing architectural feel.
Fit efficient windows
With rising energy prices and growing concern for the environment, energy efficiency has never been as important to home-owners as it is today. When looking for ways to slash consumption at home, windows should be top of the list.
Fitting good quality, modern windows will dramatically reduce the amount of energy required to keep your home warm through the winter months. Not only will this see bills reduced, it will also lessen your carbon footprint. Crucially, an efficient property will be more saleable and is sure to attract a higher price.
Open it up
The primary purpose of glass in the home is to allow light in. No matter the time of year, the more light, the better. One simple way to increase the amount of light your windows give is to opt for a different style of pane. If you're serious about increasing the flow of natural light into your home, consider knocking out walls to fit glass double doors through to your outside area.
When it comes to home improvement, there are very few jobs which won't add value to a property. Of course, most of us are working on a budget and have to pick and choose the jobs we do. Working with glass represents a big opportunity to transform the feel of your home without spending a fortune.