Posted on August 30, 2017
Have you noticed that over the recent months you cannot help but notice somebody having their conservatory roof or ads in the paper or on the radio selling solid roof options? It is not surprising as the replacement of old plastic or glass roofs with solid roofs is a big thing at the moment. So what it is all the fuss about?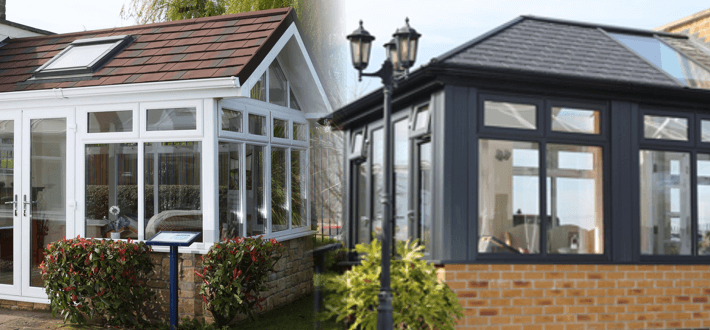 Cost effective option
The good news is, you almost certainly don't need to replace the whole conservatory. You can breathe new life into your conservatory at the fraction of the cost, simply by replacing the roof. Your conservatory company will be able to advise whether the structure and foundations are adequate for this transformation.
Save money on bills
And as well as looking fantastic, a replacement roof would be more energy efficient and could save you a considerable amount on your energy bills. So it's win win all round.
Tiled replacement roof
You might like the look of a tiled roof for your conservatory. A lightweight tiling system like UltraRoof380, regulates the temperature through colder and warmer months. And it creates a vaulted ceiling inside – offering height and space. To allow even more natural light into your conservatory, add one or more windows to the roof. High performance glazing will reduce glare from the sun and control the heat. Inside, the internal pelmet of the roof can be used to add spotlights or speakers. Or if you prefer, a flat panel can be inserted in the middle for a pendant light as a striking feature.
Solid and glazed roof
What if you want all of those features, but really love a glazed roof? It's a real plus point for many – the natural light, enjoying gazing up at the sky at night and the feeling of an outside space indoors. With a roofing system like LivinRoof you can combine a solid and a glazed roof in one. There's complete flexibility with the look and feel of your replacement roof if you decide to go down this route. Made from insulated panels, you've ticked the efficiency box too. Add a number of glazed panels, in any shape or design, and you have a stunning 'new' conservatory. Choose from a striking vaulted ceiling, or a suspended celling – for a cosier feel.
Summing up the benefits
Quick to install, energy efficient, a fresh new contemporary look, adding value to your property and no planning permission required …a replacement conservatory roof is definitely something to consider.
Before you buy
Do some research online, make sure the materials used are accredited and of the highest quality, select a reputable installer, ask about a guarantee and ask friends and family for their recommendations.
Then relax and enjoy everything your beautiful conservatory, the room that links the home with your garden seamlessly, has to offer.