Over the past 50 years we have seen very significant changes in the motivations of purchasers of new windows and doors.
As a highly respected and award-winning window and door supplier and installer since 1984, Glevum have an established reputation as being an expert in the trade and have seen the change in movements over the years. In this blog we take a look into the changing motivations of consumers' preferences and motivations when purchasing new windows and doors, and the trends which have come and gone over the years.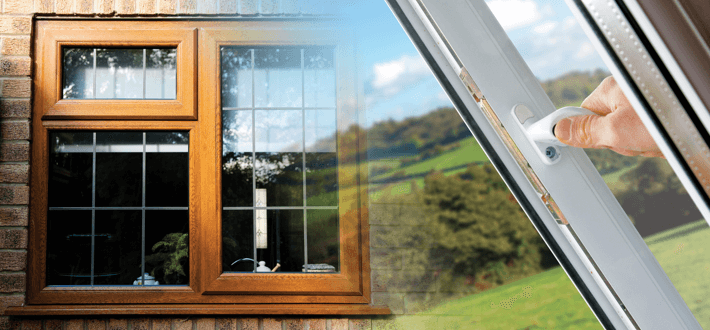 1970's and 1980's
The double-glazing boom began in the 1970s when artists like Pink Floyd, Genesis and Neil Young were topping the charts, and during this period, consumers opted for double glazing because of its ease of maintenance and the fact it was aesthetically pleasing. It was at this time that aluminum windows, sliding patio doors and secondary glazing were introduced.
The downside of aluminium framing at this time was its poor thermal resistance, and it wasn't long until they were recognised as a cold material with inefficient thermal attributes, which would cause the frames to condensate in the colder months.
By the late 1970s and early 1980s, property prices began to increase, and with aluminium windows being a 'put off' to buyers, uPVC windows, which were found to be a warmer material solution, were introduced to the UK from Germany and replacement windows were all the rage. 
During the late 1980s, uPVC windows saw advances, and enhanced wood grain options were introduced to the range, allowing homeowners to make home improvements but still tie in with the traditional look and feel.
1990s
By the time that the 1990s came around, uPVC windows were huge and dominated the window market. During this period, consumers were focused on home aesthetics, energy efficiency and high security features on their windows.
Homeowners that had not yet replaced the original windows and doors in their homes at this time were being influenced by a number of sources. The most significant of these was the replacement window industry which was driving the popularity in replacement uPVC windows. The introduction of the new material during the 80s and the intense marketing around it for such a long period of time resulted in many homeowners being persuaded that their old timber and aluminium windows were inadequate, and beyond economic repair. Instead homeowners were encouraged to shop for the more energy efficient, and more secure window solution.
2000s
During the 2000s, there was a revolution in the glazing industry, consumers primary focus was  energy efficient windows which are good for the environment, with a big focus on saving money through quality windows – the introduction of electricity smart meters, along with spiraling energy costs accelerated this trend. This has resulted in a strong demand for high quality, maintenance-free and above all energy efficient windows.



Now
The changes in the motivations of the replacement window market has been drastic over the past 50 years. 50 years on, and design is now quite often the main motivation for replacing windows, with still an emphasis on security and energy efficiency features.
At Glevum, uPVC windows are available in a variety of wood grain finishes and in several colours. The quality uPVC material can look just like an aluminium or timber window frame with the range of finishes, but instead it has benefits and features of a uPVC window. These new windows have enabled homeowners to replace old window styles, with uPVC windows which doesn't compromise on style, but it does enhance of quality, security and energy efficiency.
Our double and triple glazed windows in a uPVC frame are amongst the very best in energy rated performance and not only transform the look of a home but can also make it more secure and reduce the impact of noise outside the home. With energy costs spiraling upwards we now find that the single biggest motivation for our customers to have new windows is to reduce the amount of heat and energy loss through old or in-efficient windows but maintain style and security.

If you are thinking it is time to replace your windows and doors, no matter what your motivation, why not visit our website – www.glevum.co.uk to either request your home visit or use our instant quote facility?