uPVC, is a well-established material in the home improvement industry – but how many of us actually know what it is? The abbreviation stands for UnPlasticised Polyvinyl Chloride, a strong and durable form of plastic which is a low-maintenance building material and has endless amounts of uses. uPVC first broke onto the scene in the 1980's but the material has continued to evolve ever since. At its core the main elements of the material are made up of salt and oil, and as a rigid, strong and durable compound, it is perfect for construction purposes yet remains very light. It is most commonly used for a range of doors, window frames and sills when installing double and triple glazing, or to replace older single glazed windows when it comes to home improvements.
Why is uPVC a good material for window frames?
The material is proven to offer an all-round fantastic solution to cover a vast array of required qualities that your windows or doors may need to have. It is long lasting and requires very little maintenance, it is recognised for its thermal efficiency and it is most importantly a low cost yet great value alternative to other materials on the market.
The naturally warm material and multi-chambered frames of uPVC are great for insulation, helping to control your bills during the winter months. uPVC can last up to 20 years in perfect condition, making the investment well worth it. At Glevum we provide a 10-year (insurance backed) guarantee with all our products, including our uPVC doors and windows.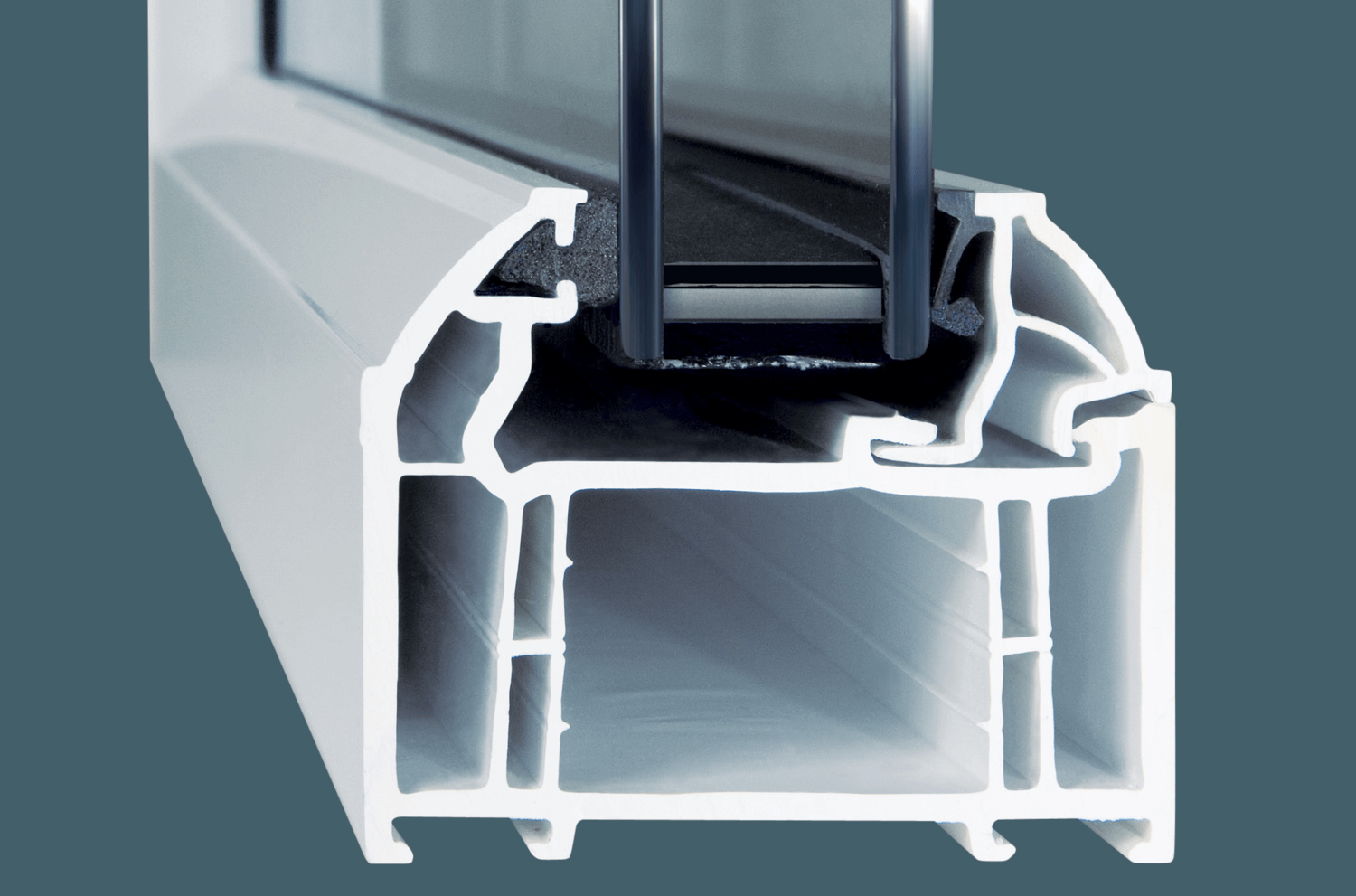 What are the benefits of using uPVC for window frames?
Low cost
uPVC is a cheaper alternative to hardwood timber and aluminium, and despite costs varying dependent on the product and details chosen, it is typically a much more affordable option to go for when choosing your new windows or doors. The cheaper alternative can still be paired with any of our glazed options such as double and tripled glazed, all the way through to our patterned and stained glass units.
Low maintenance
One of the main advantages to uPVC windows or doors is the lack of maintenance that is required to look after them. It is this factor alone that was responsible for many people to replace their old wooden windows in the 1980's and 1990's (many of these are now coming to the point where people are choosing to replace them).

The high-quality uPVC material will never need painting and will only require a wipe down on and around the frame when you feel like it. Unlike timber products, you will not see any signs of weather damage, rot, rust or even mould as they are extremely durable and weather resistant. As needed with timber or aluminium frames, it is not necessary to coat the uPVC with special substances to ward off bacterial growth or prevent chemical reactions from occurring.
Great performance
All uPVC windows and doors must be energy rated to confirm with Building Regulations which guarantees thermal efficiency. As the windows are made of uPVC, they have a very low thermal conductivity which is essential to stop heat escaping as easily as it does with other window materials such as aluminium. What's even better is the material choice combined with modern glazing options can provide sound insulation, and research even suggests that the combination can reduce the outside noise by as much as 75%!
Aesthetics
At Glevum our uPVC is available in a wide range of attractive colours and woodgrain timber effect finishes to maintain the authentic look and feel of traditional timber window frames at a fraction of the cost. The colours range from White or Antique Teak all the way through to Chartwell Green and Black. Glevum offer a range of styles and finishes to account for all different tastes and property styles to compliment homes inside and out, including the choice of glazing options. The material also retains its shape within our living climates but if placed in a very high temperature, it can then be recycled to maintain low environmental impact!
Here at Glevum we are a proud, reliable and professional installer of uPVC products alongside multiple glazed options. Browse our website, give us a call or pop into our Showroom and Conservatory Village – to find out more about what we offer.