Posted on September 26, 2017
With the prospect of shorter and chillier days just around the corner, you might find the prospect of spending less time in the garden a bit depressing. For those fortunate enough to have a Conservatory though, they have the perfect link between the garden and the home and a place from where they can still enjoy the garden regardless of the weather. If you have a conservatory has it been shown the love that it deserves or is it just a little bit neglected? Are we making the most of the extra space?
Has your Conservatory become a dumping ground, an office, a play room or a new home for the ironing! It's easy to redefine, organise and refresh your conservatory – with little effort or money. Here's how …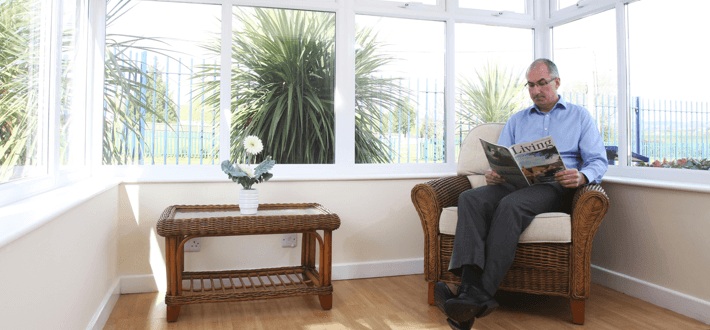 Stay neutral
A splash of fresh paint on the walls can take less than a day and help transform your conservatory from tired to energised.  Unless you have a very large conservatory, keep colour choices light.  Add colour and pattern with cushions, a rug, artwork or plants. You'll be amazed the difference this simple change will make.
What's in store?
It's absolutely fine for your conservatory to be a room for all members of the family to enjoy. You just need to get organised. Toys, paperwork, piles of ironing all deserve their place.  Think stylish, cream wicker storage boxes. Open shelving – to display plants, with boxes in places to hide clutter. You can even buy conservatory furniture such as sofas and chairs with inbuilt storage in the seating.
Stylish in the shade
If your conservatory has survived a few seasons without them, chances are it will be crying out for a little TLC in the blind department. Specialist blinds not only look fantastic, but they control temperature, reduce utility bills and reduce the glare of the sun.  It's a stylish finishing touch for this special room in your home.
A "spring" clean
Good old-fashioned elbow grease! Removing all your furniture and bits and pieces and giving the windows, skirting boards and decorations a good deep clean will breathe new life into your conservatory. If you're too busy or unable, why not hire somebody to come in and do this for you? If your pet enjoys the warmth of the room, there's a good chance they have left some fur and aroma hanging around! Treat them to a sweet-smelling pad too!
If all else fails…
If you've tried all of this before and you really need a proper revamp, or rebuild, why not replace your conservatory with a brand new one? You don't have to replace the whole thing – a new roof, windows or doors will make a remarkable difference. And you can almost guarantee, if your conservatory is knocking on a little, replacing certain elements will also improve energy efficiency as well as style. The conservatory industry is changing and improving all the time with new high-tech engineering and fantastic features. Solid roof upgrades are very popular at the moment, helping turn conservatories into an all year round living space. You can view several different solid roof types at our Conservatory Village near Newnham on Seven.
Maintaining your conservatory may seem like a chore, but set aside one weekend and it will be time well spent. By Sunday evening you'll be enjoying the fruits of your labour in your 'new' room.
And in future, if you come to sell your home, you'll be glad you took care of your conservatory for the added value or buyer appeal that it brings.