Posted on July, 2019
A roof upgrade from Glevum is proving a more popular option than ever. Perhaps you are facing the issue of your conservatory being too hot in summer and too cold in winter? Or maybe you want to keep your existing conservatory, but it's time for a freshen up? Other customers opt for a solid roof upgrade to create that feeling of a extension.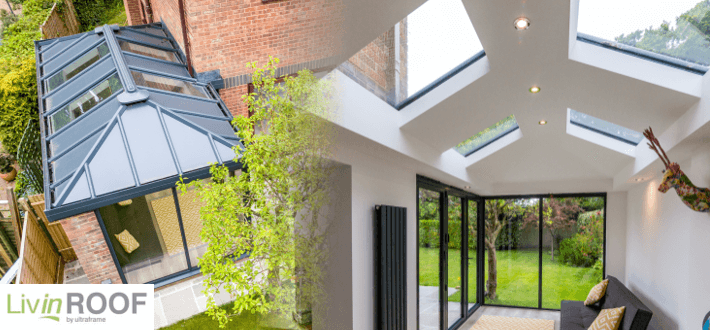 The extensive range that Glevum offers gives you the ability to upgrade and improve. Whether you want a combined glazed and solid roof, a tiled roof with full rectangle glass panels or a modern lantern roof. A conservatory roof upgrade from Glevum can help to enhance any style of property, from the traditional to the modern.
Manufacturing technology has come a long way and the installation of a conservatory roof upgrade now couldn't be easier.
So, how do we make this available for our customers? ULTRAFRAME!
Glevum are proud to be a preferred supplier of Ultraframe, a well-established (over 30 years) and renowned supplier of conservatory systems, who are always pushing the boundaries of conservatory designs to ensure that their conservatory systems remain at the forefront of the market in technology and design.
All Ultraframe conservatory developments are fully tested in their own modern test facilities. They use independent third-party accreditation and testing agencies to add further credibility to their products. A prime example of this is Ultraframe's conservatory roofing system, which not only has a life expectancy of at least 25 years but is also the only conservatory roofing system currently with BBA (British Board of Agrément) accreditation, making them Europe's leader in glass roof manufacture.
So, why should you consider a roof upgrade and what are the benefits?
A Glevum roof upgrade can be hugely beneficial to your home no matter which style you choose. From lowering your heating bills in winter with improved energy efficiency, to making the space comfortable and cosy all-year-round. As they are available in a range of finishes and options, you are bound to find a style to suit your property and complement the existing colour. Conservatory roof upgrades are a fraction of the price of a new conservatory and are very quick and easy to install.
So, what Conservatory Roof Upgrades can Glevum offer?
LivinROOF
The LivinROOF is purposely designed for the replacement of tired glazed conservatory roofs. It has been designed to combine a glazed and solid roof seamlessly. It helps to create a living space that you can use all-year-round, offering flexibility, thermal efficiency, strength and rigidity, like no other solution on the market.
It can incorporate one, or several glazed panels that allows daylight to penetrate deep into your room, making the space instantly brighter. The glazed panels can be inserted to replace any of the aluminium roofing panels, in any shape enabling you to maximise the natural light in your room to produce a very contemporary design.
Internally the LivinROOF is stunning, delivering a magnificent vaulted ceiling and incorporates an internal pelmet around the perimeter. If a vaulted ceiling isn't for you then there is an option of a suspended ceiling, allowing you to continue the ceiling height from an adjoining room to give your room a 'cosier' feel.
UltraROOF 380
The UltraRoof 380 overcomes the issue of your conservatory being too hot in summer and too cold in winter. Moreover, it creates a beautiful vaulted plastered ceiling inside – and on the outside a stunning lightweight tiled finish.
For those who want a solid roof but still want to retain an element of light within the room, the clever configurable technology in the UltraRoof 380 allows the installation of multiple glass panels or Velux Windows – this can help project light into the adjacent room and give you a truly bespoke design.
Extremely thermal efficient due to its advanced design, it is fully compliant with Building Regulations, giving you peace of mind from the get-go of your replacement roof project.
Internally the UltraRoof 380 is beyond comparison. Around the perimeter of the ceiling sits an internal pelmet which can be used to insert spotlights or speakers. At the apex of the roof you can choose to add a flat panel, enabling you to insert lighting of your choice.
The UltraRoof 380 is a proven favourite and will provide comfort and peace of mind for many years to come.
UltraSky Lantern
An UltraSky Lantern can be installed to help add to that feeling of space and natural light to your home. Whether it be for a living room, dining room, kitchen, bedroom or bathroom, the UltraSky Lantern Roof will be the perfect stylish solution for you.
It is a modern feature, enhancing any style of property. It reduces the need for a chunky roof ridge and maximises the amount of glass that allows light to flood into your room. The thermally efficient glazing will also help reduce heat loss and noise pollution.
You can choose from the stylish and modern PVC, or for that extra "Wow" factor you can opt for stunning Aluminium, available in white, anthracite grey or satin black. Internally the lantern roof can be white, anthracite grey or satin black to help you match or contrast the external finish.
Warm Roof
The Warm Roof has been designed to replace the existing glass or polycarbonate roof of a conservatory, while retaining the original windows, doors, frames and walls (with zero condensation risk over the life of the roof).
Over the last ten years, the Guardian Warm Roof Conversion System has been described as the biggest revelation to hit the home improvement market. It is a unique and innovative solution which will transform your existing conservatory and even reduce rain noise and sun glare.
Fully tested and approved to all thermal and structural standards, the Guardian roof is a high-performance insulated roof system, comprising of a pre-engineered lightweight frame, two layers of rigid insulation board, internal insulated plasterboard, exterior grade plywood, vapour membrane and a choice of external tile finishes.
At Glevum we aim to offer our customers the best range of conservatory and roofing solutions on the market. Our range is available to see in their natural outdoor environment at our Head Office Showroom and Conservatory Village, where we have 14 Conservatories on show in various shapes and sizes. We believe this to be the largest outdoor conservatory village in the South West, so is well worth the trip.